I spent the weekend in Chicago at Anime Central 2012, the first anime convention I've been to since Anime Weekend Atlanta 2007. Many of us geeks have our escapes: mine is the mythical realm of "Japan", where children are taught the value of empathy, and people default to a position of kindness and respect in their dealings with others. ぼく の ゆめ きれい です。
Along with loading up on collectibles (Angel Beats! Anohana!) and finding new shows to watch (Toradora!), I had a few encounters that, surprisingly, led to some insights about where digital media is and is going on the platforms I work with.
That iPad UStream Guy
In the Sentai Filmworks panel, I noticed a guy in the front row shooting video with his iPad. Not a bad idea — the battery life is enormous, so you might only be limited by using up the flash storage. But what I discovered later was that he was the animecon-industry channel on UStream, and was streaming all these panels live on the internet. From the iPad.
Multiply this by a bunch more iPads and a bunch more interesting pursuits and I start to wonder why I'm not already combing UStream for cool stuff streaming now.
BTW, I asked three questions in the Sentai Panel. Watch the recorded version and you can hear me asking about whether iTunes download-to-own makes still sense for them, why they went back and licensed the older ef: A Tale of _____ shows, and what led to the reissue of Clannad After Story with an English dub.
Making Music with Miku
Another panel I went to was a how-to showing how Yamaha's "Vocaloid" software can be used to create synthetic singers, such as the very popular (and much-cosplayed) Hatsune Miku. What I didn't expect to find out is that the Yamaha guy who created the Vocaloid software is a big Mac fan, and despite the fact that the Vocaloid products are Windows-only, was shown in a video from last year's Anime Expo toting a MacBook Air to a panel (it may be this one, but if not, it still shows Ito-san clearly using an Air).
Duly inspired by this, the panelists at ACen showed a MacBook-based workflow that used Vocaloid 3, despite the fact the program is Windows-only, and was only partially localized for English. They played a synth into Logic Pro to lay down a base music track, then played a second track as the vocal line. They exported that track as a .mid (MIDI sequence) in a directory shared with VMWare, where it could then be imported into Vocaloid and sung by Miku. After tweaking the Japanese phonetic lyrics, they exported a .wav back to Logic to complete the song.
Of course, wouldn't it be nicer to cut Windows out entirely? Knowing that there are Mac fans at Yamaha and Crypton, maybe Apple should make some calls. Having Hatsune Miku as an instrument in GarageBand or Logic would be a hell of a lot of fun, and would surely lead to getting her as the vocalist of even more songs on iTunes (she already had more than 1,500 last time I checked).
I've also mentioned on several occasions that the AUSampler audio unit in Lion and iOS 5 is doing a pitch shift more or less equivalent to what Vocaloid does, with the key difference that AUSampler can be played live, while Vocaloid uses a render step and could look ahead to upcoming notes to produce more realistic output. I've meant to try hacking up a "Hatsune Mac-ku" with AUSampler one of these days… it's on the list of experimental projects that could turn into an article/blog/session if I find the time to get it working.
There's An App For That Anime
One of the first things I did on the show floor was to finally sign up as a paying subscriber for Crunchyroll, the streaming service that offers many anime shows within hours of their Japanese airdate. Considering I'm currently using it to keep up with Kids on the Slope, Bodacious Space Pirates, and Puella Magi Madoka Magica, I've come to feel like quite the freeloader.
Part of the reason I'm watching so much Crunchyroll is that it's easy to do so on the iPad while waiting in the hallway for my kids to fall asleep. Like a lot of Flash-based websites, Crunchyroll has had the sense to build an iPad app. And one of the upsides of having a real app is that the video can be sent over to an Apple TV for proper wide-screen viewing.

When I look at the "Anime" folder on my iPad — consisting of Crunchyroll, Anime Network, Funimation Free, and Adult Swim — and then look at the icons on the Apple TV screen, I can't help but wish that these streaming apps could be on the Apple TV itself. With the latest Apple TV update presenting us with a grid of app-like icons for the various services and providers, it sure feels like this is what we're heading towards. And when you can just subscribe to your favorite sports league as an app and not deal with cable/satellite/local-broadcast hassles and blackouts, it starts to show the promise the cord-cutters have been talking about all this time.
The New York Times had an interesting article on this the other day. After presenting the channel-as-app metaphor, they point out that this could bring about the "a la carte" model that so many viewers have wanted for so long: the ability to just buy the content that you want, and not have to buy a bunch of programming you don't want. But they also identify the catch that I've worried about for years: many of the content providers are vertically integrated with distributors. All the NBC/Universal networks are owned by Kabletown Comcast, which means that they may not want to sell content directly to end-users when that cuts into the parent's core business of selling cable subscriptions.
And would a la carte make sense for consumers? We might get sticker shock. Think about my anime apps: I'm in for $7/month with Crunchyroll. But they don't have everything. If I want Lupin the 3rd commercial-free on Funimation streaming, that's $8/mo, and ef on Anime Network is going to set me back another $7/mo. So just for anime, I'm in for 22 bucks a month! Do I have anything left for sports or news? Suddenly, the DirecTV bundle isn't looking so bad anymore. [Indeed, Anime Network is also on DirecTV VOD, which is why I'd be highly unlikely to pay for it again as a streaming subscription. Last year, instead of cord-cutting, we doubled-down on DirecTV and upgraded to their "whole home" service. We'll probably eventually want to get the nomad too. YMMV.]

In fact, when I saw the much linked Oatmeal cartoon about I Tried to Watch "Game of Thrones" and This Is What Happened, I had a specific thought when I got to the frame where the protagonist is flashing his credit card in front of the computer, saying he was ready to buy if only they would sell it to him. Here's my thinking: HBO knows full well that there are people who subscribe to the channel entirely for the sake of one show. That is their business model: you buy it for Game of Thrones or The Sopranos, and as a bonus, you get to see Splash and Independence Day 400 times a month. Which is total crap of course, since we only care about Game of Thrones. So if you're paying just for that show, what's the cost? Say it's $30/month times however long a season runs, plus time to unsubscribe, leaving a little room for customers who don't bother unsubscribing religiously. Shall we say four months? Then that means a season of Game of Thrones is arguably worth $120 per subscriber.
Now imagine if HBO put out a Blu-Ray set, day and date with the series, at that price point. Everyone would scream bloody murder. But, Mr. Oatmeal, you were flashing your credit card! Did you think that a new production should cost the same as a back-catalog show from 20 years ago that has already paid its bills several times over?
But I'm kind of digressing into old arguments. The point to make about networks-as-apps is that Apple's treating Apple TV as a "hobby", the lack of an SDK for Apple TV, the company's slow movement towards backing it up with content other than the not-terribly-popular iTunes download-to-own and partners like Netflix… it could be that they're not going to take on the entire cable/satellite industry until they're confident there's a real opportunity, if not an absolute certainty, that they'll win. What I see is a long game, where they roll out technologies like HTTP Live Streaming and AirPlay, see if they take, and let the pieces quietly get into place. Not a fiendish master plan… just preparing relevant technologies and partnerships so they can enter this war at a time and place of their choosing.
Dreaming of Streaming
Speaking of HTTP Live Streaming, one last point is to acknowledge what a tremendous success story this has been? Non-existent 5 years ago, it is now the technology that delivers all streaming video on the hundreds of millions of iOS devices, in a way that satisfies the security demands of the major media companies, sports leagues, etc. As I mentioned before, my iPad is full of video streaming apps, not just the various networks and content providers, but stuff like UStream that captures and streams live video.
The thing to start watching now is what happens with MPEG DASH, which resembles HTTP Live Streaming and similar technologies from Adobe (Adaptive Streaming) and Microsoft (Smooth Streaming), all of which use HTTP (rather than custom socket connections on frequently-blocked ports) to deliver small segments of video and adjust to changing network conditions. Streaming Media reports increasing support for the proposed DASH standard from many companies, but notably not Apple. Which makes sense in a cynical view — why let the competition catch up when content providers already have to go HLS to reach the massive iOS user base? A more practical concern is that DASH seems to want to make everybody happy by just wrapping some existing standards for codecs and manifest delivery, which may end up meaning that it just becomes the "15th standard":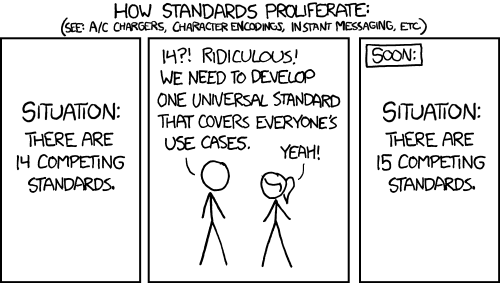 And speaking of HTTP Live Streaming, I'm preparing an all-new session on HLS for CocoaConf outside DC in late June. The early-bird deadline has been extended until this Friday (May 4), so if you want to see how cool this stuff is, you've still got time to save a few bucks.
Now if you'll excuse me, I need to put this Crunchyroll subscription to work and catch up on the subscriber-only new episodes, now that I just finished Angel Beats! from iTunes last night.